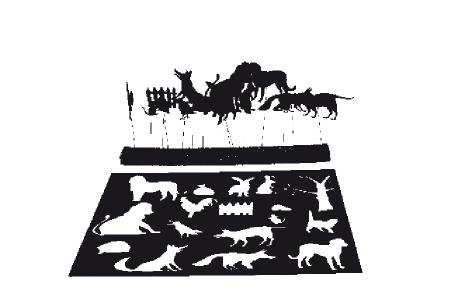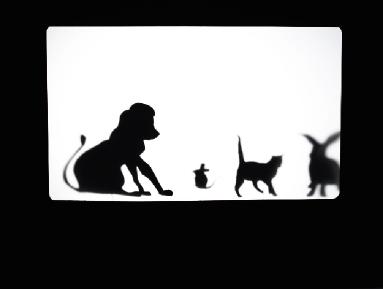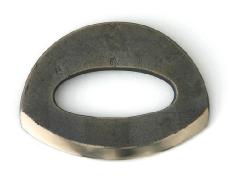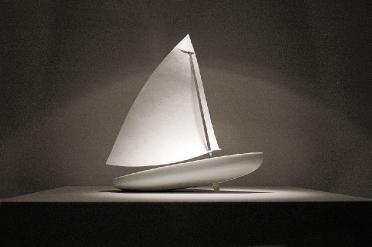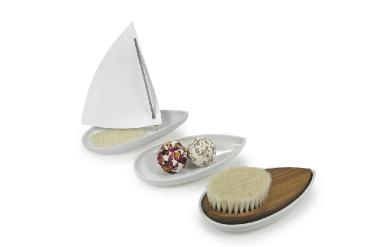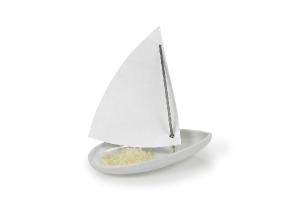 Shadow theatre - Schattentheater
As a very popular and sophisticated form of the performing arts in Asia this one comes as a small table version for the young and the young at heart to stimulate phantasy and creativity. The box provides a set of figures and requisites to start off playing most popular "fables de Lafontaine"and other common fairy tales. The foldable theatre and the figures are made of lasercut black cardbord to play on the table with your desk lamp in the background as illumination.
www.raumgestalt.net
bronze cradleknife - Bronzewiegemesser
has been selected and published by larkbooks NY/London in "500 knives".
available at:
www.larkbooks.com
Salt ship - Salzschiffchen
Who doesn´t want to be child again when sitting in the bathtub? Or dreaming of past voyages. The salt ship is carrying precious goods, which will be unloaded as soon as the sea is calm and the sail has been lowered. Afterwards the ship will go down by itself , but can be retrieved again. The porcelain dish on its own can also serve as a soap dish.
Ship made of porcelain for bath salts with a mast and a sail ( L 16 cm )
www.raumgestalt.net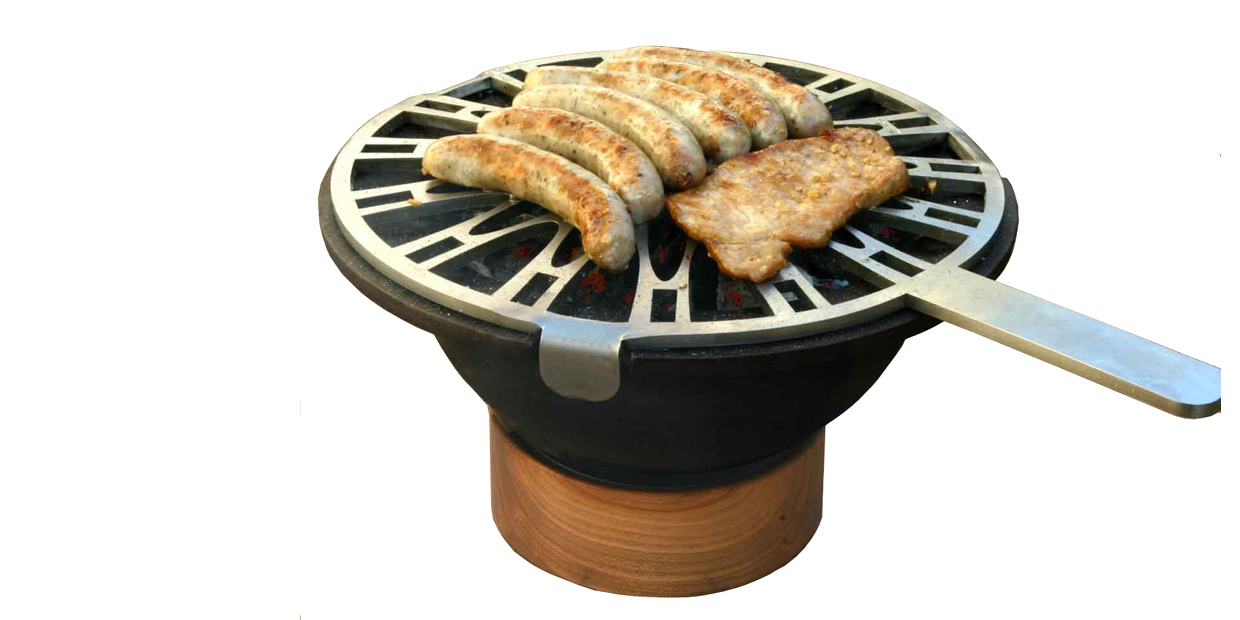 coal bowl
Enjoy it this summer. Small table grill made of cast iron, cherrywood and stainless steel. Easy to use with charcoal or wood but most comfortable with coco-grill briquettes by feengarten.
contact us for more informations!
info@lehr-kyong.de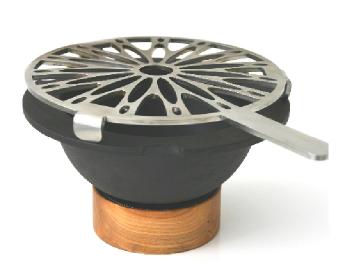 tsuba brooches - Tsuba Broschen
damascene work in silver and gold on black patinated iron discs. From the "Sonderschau Tauschieren" exhibition at the Tendence Frankfurt and Midora Leipzig.
size: appr. 40 mm
learn more about damascene and tauschieren technique
www.fbz-ahlen.de


Tipping cooking spoon - Kippkochlöffel
oiled cherrywood, silikon, stainless steel
A smart solution for clean countertops. The wooden spoon has a counterweight and allways tips back on its handle: the countertop stays clean. The weight is made of special stainless steel that can be attached to magnetic utensil racks.
www.sidebyside-design.de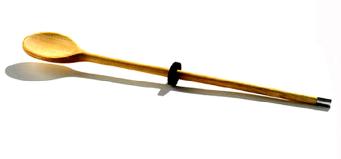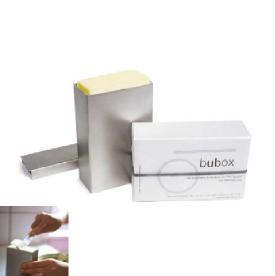 bubox
the extravagant butter dish - stainless steel. Boasts a special sliding wedge; the butter is pushed up very slightly and a thin slice can be cut off -
unadulterated pleasure!
www.raumgestalt.net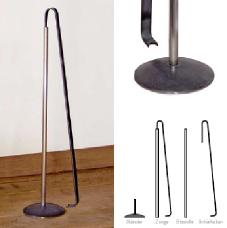 Fireplace accessoiries - kaminbesteck
very practical:uncomplicated tool for ligting and keeping a fire going: fire tongs, a poker and tube for blowing what more do you need?
www.raumgestalt.net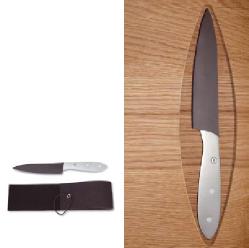 Ceramic-Knife - Keramikmesser
it´s simply fun to cut with it. It has a black ceramic cutting edge, the handle is in satin finished steel and the blade is replaceable ( if it does happen to fall ). The felt sheath is provided for keeping the knife in and can be hung on the wall.
total length: 25 cm
board made of oak to rest in the knife
www.raumgestalt.net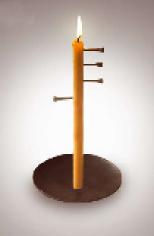 Candle clock - Kerzenuhr
the candle clock is one of the oldest devices for measuring time in history, its roots going way back into antiquity. The nails are pressed into the beeswax candle at predetermined intervals ( the time sickel helps with this ) and after the allotted time the nail falls with a "pling" into the steel bowl.
www.raumgestalt.net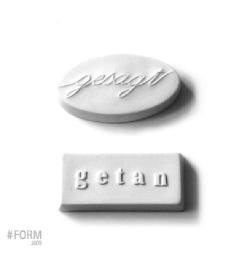 said - done - gesagt - getan
Mouldes out of exquisite porcelain, the paperweights are for the two phases of the war on paper: no sooner said, than done!
www.raumgestalt.net
all products, designs and pictures are copyrighted © by Matthias Lehr & Myong ae Kyong
all rights reserved.
No responsibility for external links.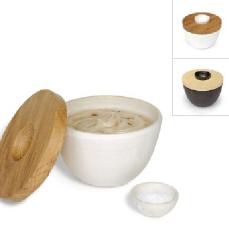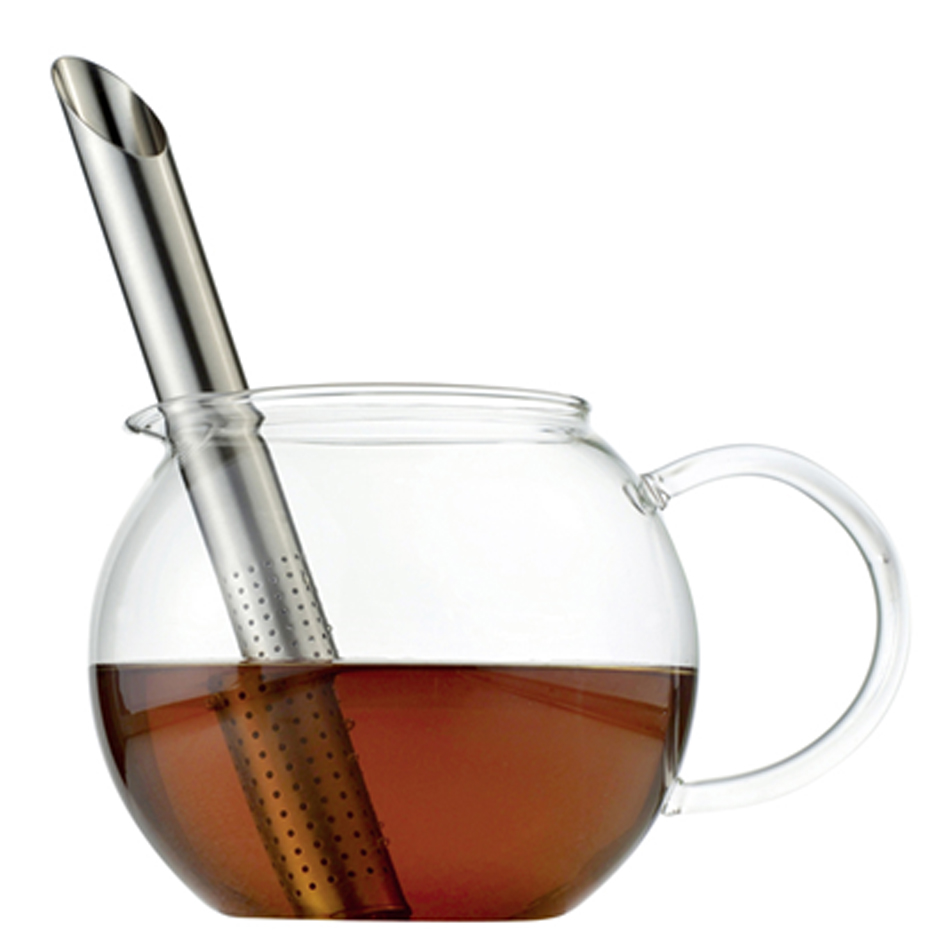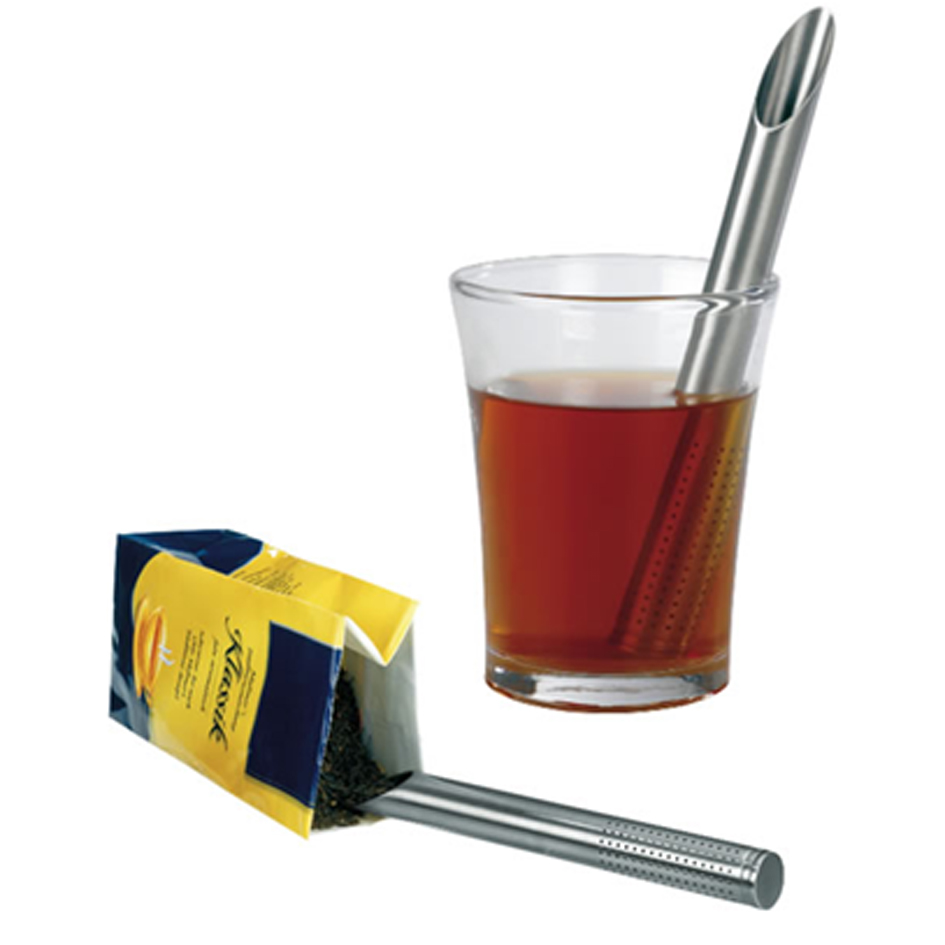 dripping with salt
Schmalz & Salz
the pure, earthy containers for Dripping with Salt go back to an old tradition: dark rye bread with freshly-made pork dripping and a pinch of salt. In light or dark ceramic and various wood finishes - an allround pleasure for both palate and eyes
www.raumgestalt.net
Tea tube
Scoop up loose tea leaves with the spoon-like end, then stand the stainless steel cylinder in boiling water to steep.
XL-version also available.
www.leopold-vienna.de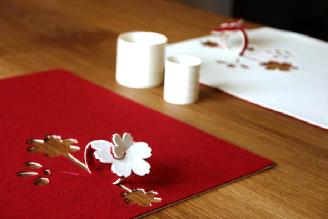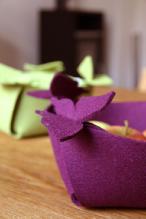 Collection Fiori
including table carpet, bread basket & place mat in different colours.
made of 100% woolfelt: waterrepellent - insulating - suitable even for hot pots & pans - easy to clean - durable - protects the surface of your table.
www.filzfabrik.de

strechy bags
small or big - the size of these bags is allways right because of the specific strechy material.
www.mudam.lu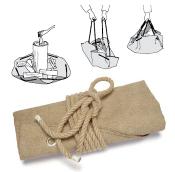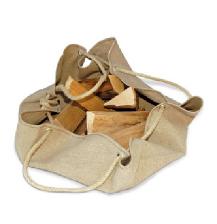 Woodsack
Burlaplinen, 3 meters of hemp rope, some loops - and this beautiful bag for carrying firewood is ready. And sturdy. Also useful for many other purposes. 1m in diameter.
www.raumgestalt.net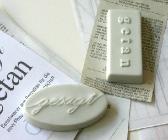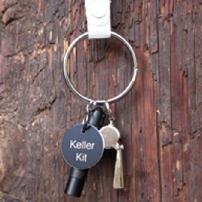 Vogelbeeren - rowan berries
lightsleeves for tealights to fit the season,the mood or the occasion.
www.raumgestalt.net
Glass Tumbler - Onkel Peter
Pure satinised glass tumblers with a precut sleeve - suitable for a personal inscription.
Set of two with a pencil. Both available in red or black felt.
www.raumgestalt.net
scales - Küchenwaage
stainless steel scales with glass receptacle.
www.raumgestalt.net
KellerKit
In the dark makes intruders hark. The question is what sort of intruders. To make sure only good spirits accompany you down to the cellar, and all who have evil thoughts take to their heels:The whistle to chase them off, the small LED torch in case things stay or go dark.
www.raumgestalt.net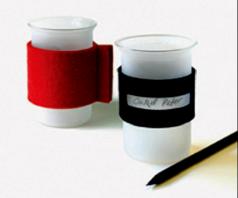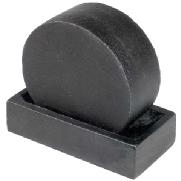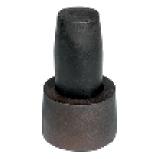 mortars & pestles
cast iron tools to use in the kitchen or as tabletops as well
Hektor & Luise
Rake and hoe all in one for gardening - due to the sliding handle!
"Black Forest" - special exhibition at the ambiente 2011
"... Local not global - companies that manufacture on a regional basis are more in demand than they have ever been. Amongst them is Raumgestalt from Bernau in the Black Forest. The company, together with students at the Karlsruhe University of Design (under the direction of Professor Hansjerg Maier-Aichen) and extern designers developed a range of "black forest" product ideas."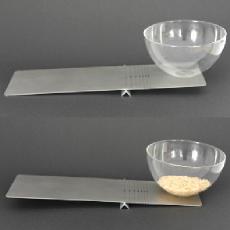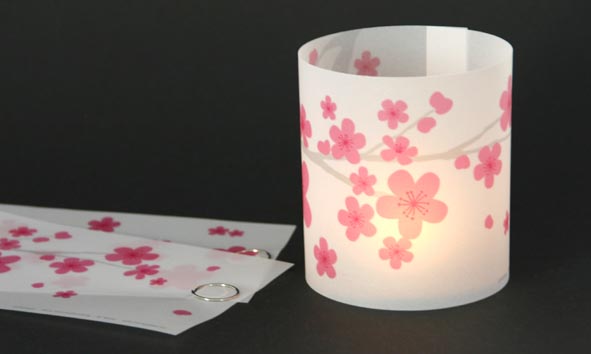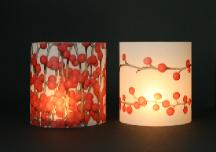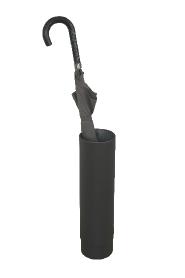 DIY Schirmständer - umbrella stand
ingredients: stovepipe, concrete, rain
Kirschblüten-cherry blossom
lightsleeves for tealights to fit the season,the mood or the occasion.
www.raumgestalt.net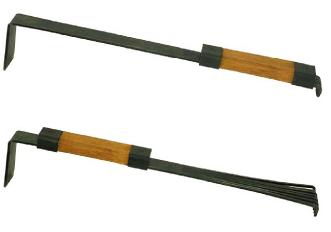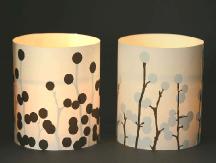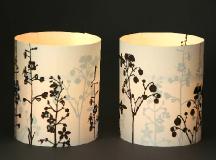 Licht & Schatten - light & shadow
reversible leightsleeves printed on both sides - for tealights
Vogelbeeren - rowan berries
Blumenwiese - flower meadow
Lichthüllen - lightsleeves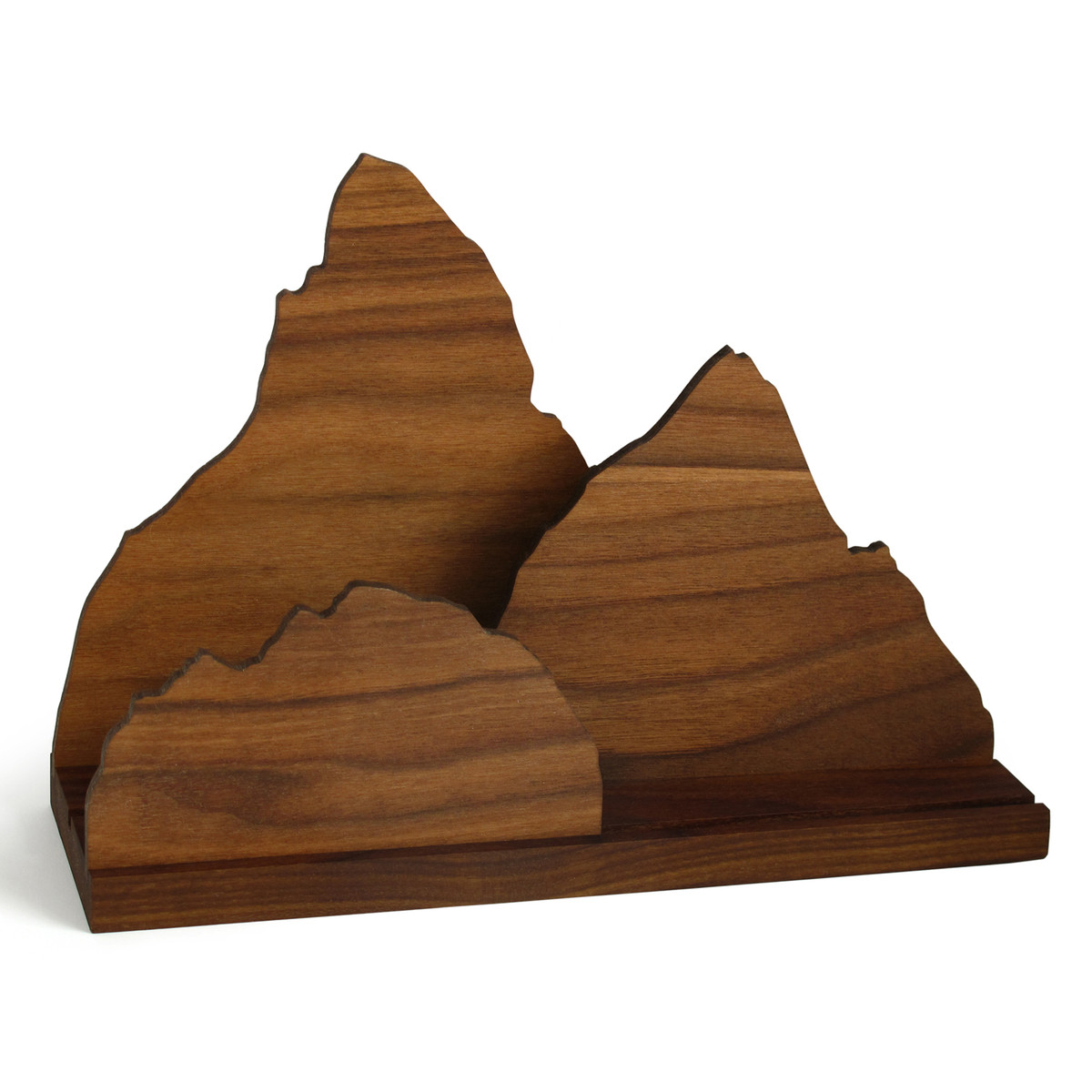 Zettelherberge - Mountan Slips Inn
Notes, flyers or letters tucked away between three mountains, that's the Mountain Slips Inn. It is a beautiful eye-catcher on the desk, in the hallway or on the kitchen counter - everywhere, where stuff collects.
By the way, the mountains shown are real: the Matterhorn, the Grossglockner and the Wendelstein, the local mountain behind the Sidebyside - workshop at the foot of the Alps
oiled walnut with movable elements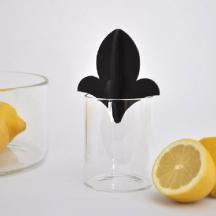 Zitruspresse - Lemonlily
squeeze your selfmade lemon- or orangejuice directly into the glass.
Unplug for flat storage in a drawer.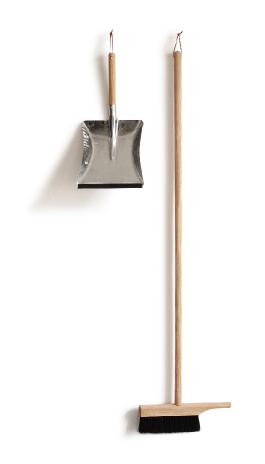 Kehrbesenset - Brush & Dustpan
Broom, brush, dustpan ... we thought that's one too many gadgets, and designed one brush with two functions.
The broomstick which is held in place by a magnet can be removed quickly, and the broom transforms into a brush.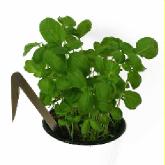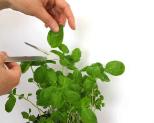 Kräutersichel - scythe
...in your pot plant allways near at hand!



Teebeutelhalter - teadipper
a tea bag holder for safe fixing and easy squeezing of the tea bag.
www.kuechenprofi.de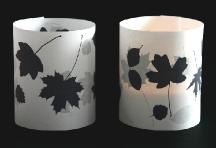 Herbstblättter - autumn leaves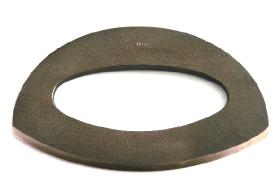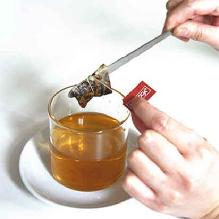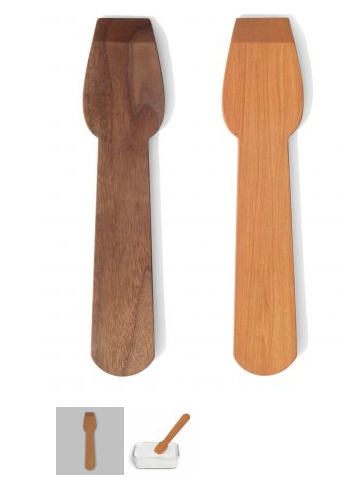 I scream - you scream! Eisportionierer
made of cherry- or walnutwood
www.siedebyside.de